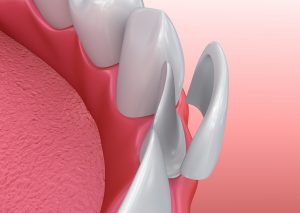 The dental field is dramatically different than it was even just 50 years ago. Not only have the tools and techniques changed, but the treatment options as well. There simply wasn't much that could be done for patients with cosmetic issues like discoloration, misshaped teeth, cracks or chips. Thankfully, today we have solutions like porcelain veneers in Palm Beach Gardens that (literally) cover all of that and more. But after using veneers to transform your smile, what's the best way to maintain them? Since they can last anywhere from 10-30 years, it makes sense to learn the best way to care for them so that you can enjoy them for 30 years instead of 10!
What is a Porcelain Veneer?
It's helpful to understand how a veneer works so you can understand why maintenance is so important. A veneer is a wafer-thin covering that is permanently adhered to the front of a tooth. One of the best things about this option is that only minimal enamel needs to be removed to allow room for the veneer.
But even though a veneer itself can't get a cavity the tooth structure underneath it is still subject to decay. Near the gumline on the front of the tooth, there is a very small strip of exposed enamel that meets the edge of the veneer. In addition, the backside of the tooth is fully intact.
If these areas aren't maintained properly a cavity can develop, and in many cases, the veneer must be replaced.
How Can You Care for your Veneers?
Cosmetic dentistry is a worthwhile investment in yourself that can give you a lot of confidence and self-assurance. It's worth it to protect that investment! With these tips, you can keep your veneers looking great for decades.
Brush and floss – This one is no surprise! But it becomes especially important when it comes to caring for your dental work. At least aim to brush twice a day and floss once.
See your dentist regularly – Your cosmetic dentist in Palm Beach Gardens will closely examine your veneers at every checkup to make sure they're in good shape.
Use the right tools – Use a non-abrasive toothpaste to avoid scratching your veneer. And don't hesitate to remind your hygienist that you have veneers so they can use the right polishing agent at your next cleaning.
Fluoride – In addition to the fluoride in your toothpaste, using a fluoride mouthwash will help strengthen the enamel around the veneer, keeping it strong and preventing decay.
Diet – Try to keep sugars to a minimum as they can increase the risk of cavities.
Be gentle – Avoid chewing on things like ice or hard candies and definitely don't use your teeth to open packages. These habits can cause your veneer to chip or break.
About the Author
Dr. Greg Riley and Dr. Duane Keuning are general, cosmetic and restorative dentists who combine their years of experience to provide outstanding dental care to their community. They always educate their patients about how to maintain their dental work so that they can get many years of enjoyment out of it. If you have any questions about veneers, they can be reached for questions via their website or at (561) 622-7243.