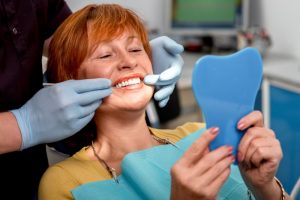 Getting a dental implant can truly make a big difference in your daily life. Not only are tasks like eating, talking, and brushing easier, but your oral health is much easier to maintain. And that's just with one implant. Imagine what a full mouth of dental implants could solve! If you're currently reviewing treatments for dental implants in Jupiter, your implant dentist thinks you should consider the benefits that full-mouth implants can offer.
The Best Long-Term Solution
Compared to other tooth replacement options, dental implants are considered the most permanent because they don't require additional maintenance, nor are they meant to be replaced. In fact, most dental implants can last a lifetime as long as they're given the proper care that natural teeth receive.
Dentures need to be removed every day and bridges and crowns will eventually need replacing after a certain period of time. There are no adhesives to hold dental implants and no resetting to make sure they remain stable. Once they've healed properly, which your implant dentist in Jupiter will confirm, you can eat the foods you want without worry.
Implants Promote Healthy Bones
Jupiter dental implants are the only tooth replacement option that stimulates bone growth as well as muscle growth in the jaw. This is because the biocompatible, titanium post naturally integrates with your existing bone. This prevents the bone from deteriorating and the mouth from collapsing over time.
In fact, the American Academy of Periodontology states that, when it comes to bone and dental health, full mouth dental implants are vastly superior to dentures. If you want to preserve your bone health and prevent your face from changing shape, implants are the best solution.
Easier to Maintain Than Dentures
Dentures require patients to clean them every day and let them rinse when they go to sleep. This only adds more maintenance time to accompany your daily routine. Furthermore, you'll need to reline your current dentures to make them fit better and eventually replace them after about five years, even with perfect maintenance.
With dental implants, you'll only need to focus on perfecting your regular brushing and flossing routine. As a bonus, the crowns used to cover implants are made of inorganic material, so they can't decay as a result of cavities. You'll still need to visit your dentist every six months however to ensure the surrounding gum is remaining healthy.
The Most Stable Solution to Tooth Replacement
It's quite common for dentures to shift during simple tasks like eating, talking, or laughing. If you're tired of having to readjust your dentures all day or afraid that your friends and family will catch them falling out, full mouth implants remove that scenario completely.
Want to learn more benefits of dental implants? Schedule an appointment with your implant dentist in Jupiter today to determine your eligibility!
About the Author
Dr. Greg Riley's patients have always been his number one priority at Juno Beach Smiles. With over 20 years of experience practicing and thousands of hours of dental education, he's able to ensure his patients are getting an enriched and enhanced life after receiving full mouth dental implants. To learn more about his practice and full mouth dental implant treatments, you can contact him at (561) 622-7243 or visit his website.