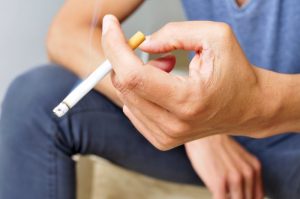 Thankfully, dental implants are known for their incredibly high success rate. With dental practices across the country touting success rates between 95 and 98 percent, patients can rest knowing the odds are overwhelmingly in their favor. However, habits like smoking not only yellow your teeth and increase your risk of gum disease, it can dramatically affect the outcome of your dental implant treatment. Recent research explores and gives patients and dentist insight on just how dangerous smoking is for your dental implants in Jupiter.
The Research on Smoking and Dental Implants
According to researchers at the University of Murcia in Spain, smoking can dramatically increase your chances of dental implant failure. In a study focusing on 66 patients who received 165 dental implants, researchers followed their healing progress for five years. One group of patients smoked for those five years while the other did not whatsoever. By the end of the experiment, the conclusions became quite telling.
Those who did not smoke only had a failure rate of 1.4 percent, matching what dentist across the country expect to be the case. However, for the group of patients who did smoke, dental implant failure rates landed at 15.8 percent; that's over 15 times higher. When getting Jupiter dental implants, it's essential that you understand how this increased rate occurs.
How Smoking Affects Your Dental Implant Success
According to Dr. Arturo Sanchez Perez, a researcher apart of the study, "People who smoke are at a greater risk of infection following surgery and may heal more slowly." He then goes on to say that smokers with implants are more likely to experience implant failure.
Just like any surgery, there are additional risks if the patient doesn't make the effort to stay healthy before and after its completion. Regarding dental implants, patients need to have healthy gums and adequate bone to support an implant. Your implant dentist in Jupiter also says you should have a meticulous oral care regimen to have a successful healing process.
The Best Ways to Care for Your Dental Implants
There are many ways you can prepare for a successful dental implant treatment. Here are a few from your dentist:
Practice Proper Oral Hygiene – This means brushing twice a day with a fluoridated toothpaste, flossing once a day, and using an interdental brush that can slide between teeth. This will help clean the hard-to-reach areas around your implant.
Discontinue Use of All Tobacco Products – That means smoking cigarettes, cigars, chewing tobacco, and using hookah. Any method that uses tobacco lowers your success of proper healing.
Visit your Dentist Regularly for Cleanings and Exams – The dentist will measure your progress and ensure you are brushing adequately enough during the healing process.
Avoid Hard Foods – Avoid foods like ice and hard candy as these can effectively crack the crown covering your implant.
Need more tips on proper care for your dental implants in Jupiter? Schedule an appointment with your implant dentist today!
About the Author
Dr. Greg Riley earned his Doctor of Dental Medicine from Temple University School of Dentistry before moving to Florida. He's also a member of the American Academy of Cosmetic Dentistry and the Florida Academy of Cosmetic Dentistry, allowing him to devote many hundreds of hours of continuing dental education. To learn more about practice and dental implant treatments, contact him at (561) 622-7243 or visit his website.