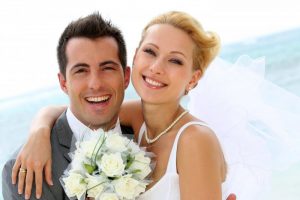 It's finally happened. Your boyfriend is down on his knee, arm-stretched, ring-in-hand, asking you to marry him. Next thing you know he picks you up and swings you around before going in for a kiss.
Minutes later you're staring at your ring finger, thinking about all the planning you'll need to do. Then you realize you'll need a photographer, but you're self-conscious about the stains and cracks in your smile. Fortunately, you can get a smile makeover in Juno Beach just in time for your special day.
What is a Smile Makeover?
A smile makeover is a combination of different restorative and cosmetic treatments designed to fix imperfections in your teeth. After your engagement occurs and the date is official, you'll want to schedule a consultation with your cosmetic dentist as soon as possible.
It depends on the treatments you want and the amount of work you want done, but some cosmetic treatments can take long periods of time before they are complete. To avoid any complications come your wedding day, you'll need to learn the different treatments your dentist can perform well in advance.
Restorative and Cosmetic Treatments Before Your Wedding
One of the most popular treatment options includes teeth-whitening either in-office or with professionally take-home kits from your dentist. Depending on the darkness of your teeth, you may want to opt for take-home kits as they are more powerful, and you'll likely have the time necessary to complete.
If you want to restore chips or cracks in your teeth, these methods are commonly found in dental offices around the country:
Bonding – In this process, a tooth-colored material is applied to fill small spaces in the surface of teeth. It's considered to be a non-invasive and more conservative option for imperfections.
Veneers – These are thin, custom-made shells that cover the front of teeth to treat spaces between teeth, teeth that are chipped or worn, or permanently stained.
Crowns – If veneers don't work, a crown (or tooth-shaped cap) can be placed over the affected tooth. They are meant to cover the visible portion of the tooth that lies at and above the gum line.
Another treatment option known as tooth contouring or reshaping can also be done to file down teeth that are too long or don't match the rest of your teeth. Fortunately, this process doesn't hurt nor do other materials need to be installed. Just keep in mind that because the enamel is being filed down that it will be permanent. If you're looking for a whole smile transformation, realignment treatments are also available.
Getting a Straight Smile By the Official Date
If your teeth are misaligned or overcrowded, you may want to consider clear aligners such as Invisalign or ClearCorrect as these are ideal solutions for minor to moderately crowded teeth.
Clear aligners also take much less time to complete compared to metal braces, so you can rest assured that your teeth will be looking better than ever come your wedding day.
To learn more about building your smile makeover plan, contact your dentist in Juno Beach to schedule a consultation!
About the Author
Dr. Duane E. Keuning has been working at his practice for over 15 years. After earning his Bachelor's degree in Microbiology and spending two years concentrating on oral biology research, he went on to complete his Doctorate of Dental Medicine in 2001. He is a member of the American Academy of Cosmetic Dentistry as well as the Florida Academy of Cosmetic Dentistry. To learn more about his practice, contact him at (561) 622-7243 or visit his website.