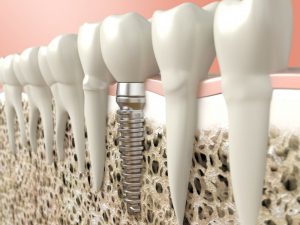 In our two-part series, we focus on the many benefits dental implants can provide you compared to other restorative methods in dentistry. As you compare your options with you dentist, you'll be surprised to find out just how much dental implants can change your life and oral health.
Your dentist in Palm Beach Gardens only wants to provide you the treatment you want, but part of choosing a treatment is being thoroughly informed on the subject. Let's dive right in.
Speaking is Easy with Dental Implants
When wearing dentures, you may have to adjust to speaking a certain way so they don't come out as you talk. Since dental implants function like regular teeth, you don't have to change your speaking habits. With implants, you won't struggle to pronounce certain words and no one will be the wiser during your next outing.
You Can Eat All Your Favorite Foods
Dentures limit the foods you are able to eat, especially if they are tough, sticky, or chewy. Your ability to bite and chew is unaffected after receiving implants. Additionally, you can taste food the way it was always intended, as dentures are known for affecting this. Whether you've got a craving for barbecue or a sweet tooth, your implants can handle it.
Dental Implants Can't Get Cavities
It might be surprising to hear, but implant-restored crowns cannot get cavities because they are made of artificial ceramic material, which bacteria cannot eat away. However, you'll still need to care for it with regular brushing and flossing to protect the gum around the implant site. This also includes regular dental checkups with your implant dentist; they'll also make sure the implant is staying properly in place.
Dental Implants Will Stay in Place
If you have dentures and do any of the following activities, you risk them falling out:
Eating
Talking
Smiling
Laughing
Kissing
Yawning
Coughing
A bit ridiculous right? With dental implants, you won't have to worry about repositioning them back into place. This is because they are fixed and fused naturally to your jawbone, preventing any moving, shifting or clicking that comes with dentures.
Your Healthy Teeth Aren't Negatively Affected
Tooth-supported bridges requires the dentist to shave down existing teeth in order to place. This mean you have to damage your existing teeth just to replace missing ones. Why settle for this when dental implants can act as prosthetic roots and bypass your healthy teeth entirely?
As an added bonus, dental implants will keep adjacent teeth straight. If empty space remains in your mouth for too long, the remaining tooth could shift and take its place. Your dentist will likely have stories of this happening, so put your faith in a long-lasting alternative.
Your New Implants are Reliable
Dental implants have a proven track record of being reliable, long-lasting, and durable for decades. Unlike other restorative methods such as bridgework, removable appliances, and root canals, they are easier to predict the long-term effects of. Just like choosing the right vehicle to take you to work, you want the right tooth that withstands the elements.
Schedule a consultation with your implant dentist in Palm Beach Gardens to learn how to change your smile permanently!
About the Author
Dr. Greg Riley is a member of the American Academy of Cosmetic Dentistry as well as the Florida Academy of Cosmetic Dentistry. With 20 years of experience practicing dentistry, Dr. Riley considers the patients in his community to be his number one priority. To learn more about dental implants and his practice, you can contact him at (561) 622-7243 or visit his website.