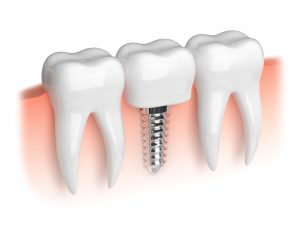 Over the years, dentistry has become capable of offering many different solutions to restoring missing teeth. Some have been more popular than others, while others are the most ideal in the long-term. One of the most durable and long-term solutions available today include dental implants in Palm Beach Gardens.
In this two-part series, we'll be looking at the many benefits dental implants provide and why to consider them. Keep reading to find out how they can improve your smile for years to come.
They are the Closest Thing to Your Current Healthy Teeth
Unlike implants, dentures and bridges can interfere with basic tasks such as eating, smiling, and speaking. It can also lead to bone deterioration, which is especially risky if you are older.
Implants are designed to fit and function exactly like regular teeth, but are actually stronger and more stable, letting you have the perks you've always enjoyed.
Dental Implants are Built to Last
Dental implants are largely seen as the most cost-effective solution because of how long they're designed to last. Tooth-supported dental bridges on average last 5 to 7 years and with proper care more then 10 years, but they won't last your whole life. Eventually they'll need to be replaced and that will cost you.
With periodic adjustments at your regular dental checkups, dental implants can last a lifetime when properly place by a dental implant expert.
Enjoying Life with Dental Implants is No Different than Natural Teeth
If you were concerned about being in public with your new implants, you can relax. People won't be able to tell the difference unless you point it out to them.
Whether you're at the park, enjoying food at your favorite restaurant, or riding a rollercoaster, you don't need to worry about teeth falling out like dentures or tooth-supported replacement teeth.
Dental Implants Retain Your Smile and Face Shape
As you age, your skin naturally sags, but this occurs more quickly if you don't have teeth in your mouth. If you're trying to maintain the natural shape of your face and smile, dental implants can prevent your face from looking sunken or sad.
Keep in mind other restorative methods may improve the look of your smile but can also change your face's appearance and anatomy over time.
They Protect Your Healthy Bone
Empty spaces in your mouth can lead to additional health issues, including loss and deterioration of your existing jawbone. Over time, this bone will lose firmness and strength and only way to preserve it is via dental implants.
Unfortunately, dentures and other non-implant options can lead to problems with your jawbone. Unlike these methods, implants stimulate bone growth and prevents bone loss or deterioration from occurring.
Dental Implants Keep Teeth in Your Mouth, Not in a Cup
If you're tired of dentures coming out unintentionally, you need a restorative method that puts new teeth in the jawbone, not in a cup designed to come out every day. This lets you brush and floss your teeth just like before you had implants.
To learn more about dental implants, contact your implant dentist in Palm Beach Gardens today to schedule an appointment!
About the Author
Dr. Duane Keuning earned his Bachelor's degree in Microbiology, his Doctorate of Dental Medicine in 2001, and spent two years concentrating on oral biology research before joining the practice. He puts a strong emphasis on continuing education by receiving credit hours from several respected institutes, including the Dawson Institute, the Spear Institute, the Rosenthal Institute, and the Levin Group. To learn more about implant procedures and his practice, contact him at (561) 622-7243 or visit his website.