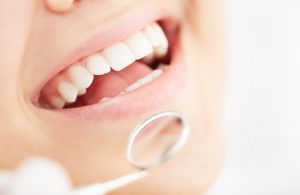 Teeth whitening uses peroxide gel of varying strengths to break through external stains, or those on the surface the teeth. Some powerful whitening treatments also reach down to the intrinsic stains that live beneath the other layer of enamel. In most cases, teeth whitening is completely safe — but it can still cause tooth sensitivity. There are a few considerations with over-the-counter whitening treatments, too. Keep reading to find out what they are, and how you can make your whitening as safe as possible by partnering with your cosmetic dentist.
How Teeth Whitening Works
There are different methods of whitening, from peroxide strips that you place directly on your teeth for 20 minutes at a time to laser teeth whitening you can have performed at your dentist's office. They all work using a safe "bleach" that breaks through stains caused by food, beverages, tobacco, insufficient dental hygiene, and even certain medications.
Professional vs. Over the Counter Whitening
A professional whitening solution that your dentist supervises is stronger than what you can buy at the pharmacy or grocery store. It may contain up to 35% peroxide. When you visit your dentist for a whitening treatment, you benefit from a customized solution that is created specifically for your teeth and gums — unlike the one-size-fits-all treatments you buy at the store.
An at-home kit can be an OK solution, but it also puts you at risk of the following:
Burns or injury to the gums and soft tissues in the mouth. The one-size-fits-all strips or trays rarely actually fit "all," potentially putting your healthy smile in danger of exposure to the powerful peroxide solution.

The temptation to overuse or abuse the whitening gel on your quest for truly dazzling results, which an over-the-counter solution just may not be able to produce.

Longer treatment times
The conclusion: for the safest, most effective whitening, partner with your dentist to receive the results you deserve.
A Note on Sensitivity
Any type of teeth whitening treatment is likely to cause at least some amount of tooth sensitivity. If you are performing your treatment at home, discontinue use when you notice discomfort to hot and cold foods and beverages. During a professional teeth whitening appointment, let your dentist know if you get a "zinger," or a fleeting sensation of sensitivity while we're whitening.
To reduce this uncomfortable side effect, you can brush your teeth with an anti-sensitivity toothpaste in the weeks leading up to and after your teeth whitening treatment. Talk to your dentist if you are especially prone to sensitivity.
Want a dazzling smile? Make sure you get it safely by partnering with your dentist. We can't wait to help you love your teeth!
About the Authors
Dr. Greg Riley and Dr. Duane Keuning are trusted cosmetic dentists serving the Juno Beach area. To learn more about the safety of teeth whitening or to schedule an appointment, please do not hesitate to get in touch with the office at 561-622-7243.