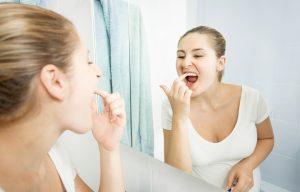 We've all heard about that one person being on a date, enjoying their night. There's a candle lit dinner, wine, and a delicious spinach salad. The conversation is even intriguing and entertaining! Then they laugh and their date stops chuckling to point out the spinach stuck between their teeth.
It's all fun and games until you discover that you had food in your teeth! We've all experienced a moment like this, which is why it's important to keep a handy pack of floss nearby at all times. Your dentist is here to explain why keeping floss with you is great for your appearance and oral health.
Keeping Your Teeth Clean Without Relying on Toothpicks
If you happen to have food stuck in your teeth at a restaurant, you can always wait to ask a waiter for a toothpick—or worse—dig at it with your fingernails. Although toothpicks aren't the absolute worst way to remove dental debris from your mouth, there are better choices for your smile.
A safer way to remove excess food in your mouth is to try rinsing your mouth with water. Swishing a liquid around your mouth is a much safer than sticking foreign objects near delicate soft tissues and gums.
If you can, try carrying floss in your purse, wallet, or car for these random occurrences. This way, you'll always have a safer alternative rather than being forced to use a toothpick on your teeth.
Your Dentist Will Always Recommend Flossing
Carrying floss with you everywhere may seem extreme to some people, but really you're just staying prepared. Here's why your dentist always uses flossing as a go-to answer to dental problems—like when you have food stuck in your teeth on a date.
First off, your dentist's main job is to make sure that your teeth are healthy. Their second job is to keep your smile aesthetically pleasing and up to your personal standard of beauty. There are no other motives that are involved when recommending flossing to patients.
It's a personal practice that's highly recommended to keep teeth and gums strong for years to come. In fact, most dentists give away floss simply because they don't make money from it, but just because they really believe in the positive aspects of flossing.
Flossing is easy, it's free from your dentist, it's the best way to clean between your teeth, and it's simple to travel with. Flossing directly affects the strength of your smile's foundation: your gum health. When you take the time to remove excess bacteria from your teeth and gums, you're decreasing your chances of developing dental diseases. You can feel good about the fact that you reach 35% more of your teeth's surfaces when you choose to floss your teeth.
---
About Our Office
When you choose a practice to call your dental home, you need a team that will support you and all your oral health needs. Juno Beach Smiles does just that by giving helpful, effective advice and providing exceptional dental services. If you ever have a question about your oral health or even if you're shopping for the latest dental specials, don't hesitate to call our Juno Beach office.