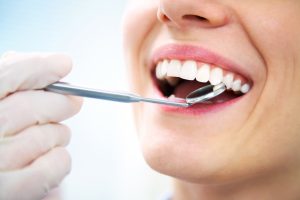 Can you imagine how decayed a smile would look and function after being completely neglected for 20 years? You don't have to imagine, you can see it here! Meet Jay, a 21-year old man that thought he had lost all hope in ever having a decent smile. He didn't have a strong dental health background to lean on from his parents and gave up on the health of his teeth and gums.
It's truly amazing to witness what a dentist can do for a patient that is truly committed to improving their life through better oral health and aesthetics. The dentists that helped Jay combined comprehensive deep cleaning services, restorative dentistry, and cosmetic procedures to give him a smile that he could show off proudly.
If you're ready to make improvements to your smile, keep reading your local dentist's take on a smile makeover.
You Too Can Have a New Smile Like Jay!
Want an attractive, functioning smile—but feel like it's too late? Believe it or not, your dentist can help you do that by combining their dental training, expertise, and skill. Your dentist will apply their background in cosmetic, restorative and implant dentistry to develop your customized smile makeover plan.
A smile makeover can improve your health and self-image. From simple exams and cleanings to teeth whitening and porcelain veneers to complex procedures such as dental implants, your dentist creates healthy, artistically crafted smiles that help you to look as young as you truly feel.
How Do You Get Started?
A smile consultation starts with a thorough oral exam. This allows your dentist to look for decay, gum disease, tooth misalignment, jaw joint issues and/or oral cancer. This also allows for a time to discuss your aesthetic goals with your dentist. From there, your smile makeover plan is created.
First, You Must Restore the Health of Your Smile
For a smile to look good, it has to be healthy. Your dentist can suggest these restorative services for you:
Tooth-colored fillings
Porcelain crowns
Inlays and onlays
Dental implants
Extractions
Full and partial dentures
Crown and bridgework
Then Your Dentist Will Improve Aesthetics
Depending on patient goals and needs, your dentist will use recommend a variety of cosmetic services:
Porcelain veneers
Direct bonding
Laser gum recontouring
ClearCorrect
Botox
Metal-free restorations
Invisalign
Juvederm fillers
A younger, healthier you begins by reaching out your dentist for a smile makeover consultation. If Jay can deteriorate his smile for two decades and still recover with gorgeous teeth, you can too!
---
Meet Our Dentists
Each of our dentists, Dr. Greg Riley and Dr. Duane Keuning, have dedicated themselves to providing patients with dental results that are gorgeous, natural looking and feeling, and downright amazing in every way. Through a simple consultation, we can build a trusting relationship and discuss your goals so that we can help you achieve them. IF you would like to speak to either of our dental experts, feel free to call our Juno Beach office.