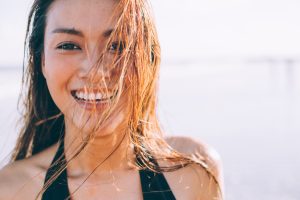 To say that there are a lot of tips on the internet about how to improve your appearance and look younger would be a gross understatement. It's basically endless! While simple things like exercising and getting enough sleep are great for subtle changes, what people really want is something dramatic– a trick that will take years, if not decades off of their appearance. Of course, there are typically only 2 ways to do this: one, using a variety of expensive creams and lotions, or two, undergoing cosmetic surgery. However, your dentist can actually offer you a third option, a smile makeover. With just a few simple, non-invasive procedures, your dentist can give you a bright, vibrant, and younger looking smile that'll instantly make it look like time has stopped for you.
What is a Smile Makeover?
A smile makeover is a comprehensive cosmetic dental procedure that can enhance the appearance of your smile in every way. With it, your dentist can:
Eliminate stains
Straighten your teeth
Repair cracked or decayed teeth
Replace missing teeth
Replace old metal fillings
Make your smile more uniform and balanced
Your smile, just like your skin, instantly shows the world your age. Normal wear and tear, along with the occasional dental problem, can easily make you appear older than you really are. Fortunately, a cosmetic dentist can fix any imperfection you might have and turn your smile into that Hollywood-style grin. Tons of research done around the world has shown that simply whitening your teeth is enough to make you look 5 years younger, so imagine what a complete smile makeover could do for you!
How Does a Smile Makeover Work?
The first step to getting a smile makeover is to visit a cosmetic dentist in your area. During your initial consultation, they'll examine your teeth, and then you'll have a chance to discuss your personal smile goals. From there, the dentist can suggest an array of treatments that will help you achieve those goals, and using digital cosmetic imaging, they can even create a mock-up of your final result to give you a better idea of what to expect. After you have both agreed on what makes your perfect smile, they can formulate your treatment plan and determine which procedures you need.
They may include:
Teeth whitening
Porcelain veneers
Porcelain crowns
Invisalign
Laser gum recontouring
Porcelain crowns/bridges
The number and variety of procedures you need will depend on your particular smile, so the length of time your smile makeover will take can vary from a couple of appointments to more. Nonetheless, at the end of the process, your smile will look drastically younger, and as a result, so will you.
Say no to expensive mystery lotions and unnecessary surgery! The fountain of youth you've been looking for can be found right at your local dentist's office. If you're ready to get the smile of your dreams and make people wonder what your secret is, simply contact a cosmetic dentist in your area to get started.
About the Author
Dr. Greg Riley is a general, restorative, and cosmetic dentist based in Juno Beach, FL. He has been practicing in the area for over 20 years, and he is a member of the American Academy of Cosmetic Dentistry and the Florida Academy of Cosmetic Dentistry. He currently practices at Juno Beach Smiles, and he can be reached through his website or by phone at (561) 622-7243.