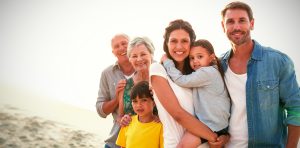 You can pretty much get anything you need without having to actually leave your house. The world is an amazing place when you can instantly cue up every movie ever made on your computer and have any kind of food brought right to your doorstep. Unfortunately, there's one important thing that you do need to leave your house for: dental care. When it comes to taking care of your appearance and your long term health, visiting the dentist is one of the simplest and most important things you can do.
Of course, if you're going to leave the warm comfort of your home, you want to make sure you're visiting a dental practice that's truly worth your time. At Juno Beach Smiles, we combine world-class service and care to provide a one of a kind dental experience where you can have all of your dental needs met in optimum comfort. Read on below to learn why we're more than worth the short drive from Jupiter.
It All Starts with Our Doctors
Juno Beach Smiles is extremely lucky to have not one, but two highly-educated and experienced doctors on staff, Dr. Greg Riley and Dr. Duane Keuning. Both have been practicing for decades right here in Juno Beach, and they continue to expand and refine their skillsets by attending hundreds of hours of continuing education each year. When you come to see us, you'll receive the kind of one-on-one attention and personalized care you simply can't get anywhere else.
Everything You Need Under One Roof
Do you have a child that's ready for their first dental appointment? Great, we love treating children!
Does one of your parents want to replace their missing teeth? Fantastic, we're one of the few dental practices that can provide complete dental implant dentistry!
Does your smile have imperfections like stains, chips, or gaps that you'd love to get rid of? Luckily for you, both of our dentists are members of the American Academy of Cosmetic Dentistry and the Florida Academy of Cosmetic Dentistry, so they know exactly how to give you the perfect smile.
With us, you'll never have to go anywhere else to get dental care. Too many practices are more than happy to refer patients out for different procedures so they're the ones who have to run around town. At Juno Beach Smiles, you'll not only get one-stop convenience, but top-quality care as well. No matter what you need, we can always guarantee that you'll leave our office with a gorgeous smile.
And We're Affordable Too
We understand that dental care can be a major, if important investment in the long term health of your family, and finances are always a factor. At Juno Beach Smiles, we believe that excellent dental care should never break the bank for the average family. We have a number of financing options to help make sure your dental care fits easily into your budget.
We're happy to accept dental insurance plans from a wide variety of providers, and our team always works to maximize our patients' benefits. Also, for those who currently do not have insurance, we can help them get low to no interest financing with CareCredit and Lending Club. We're always willing to work with our patients to make sure their dental care is consistently affordable.
Ready to Come See Us?
Juno Beach Smiles is only a short 11 minute drive south of Jupiter, and as you can see, we'll more than reward you for making the short trip. When you come to see us, you'll not only get a beautiful smile, but the peace of mind that you've finally found your "dental home" as well.
To learn more about our practice or to schedule an appointment, please contact us today.