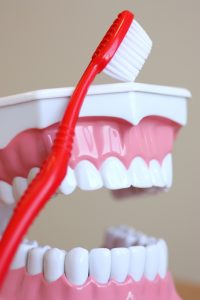 When it comes to caring for your smile, the most important tool you have at your disposal is your toothbrush. However, not all toothbrushes are the same. You have a lot of options when it comes to choosing the best toothbrush to promote your oral health. But, how do you know which toothbrush is right for you? As your Juno Beach dentist, we understand that it can be a bit confusing trying to find the right toothbrush. We have the information you need to make that choice just a little bit easier.

How Do I Choose the Right Toothbrush?
When choosing a toothbrush, the most important thing to remember is to choose a toothbrush that is supported by the American Dental Association. If the toothbrush is deemed to be effective, it will feature the ADA Seal of Approval. For a toothbrush to earn the seal, it must be evaluated for safety and efficacy by the ADA Council on Scientific Affairs.
In order for the seal to be earned, the toothbrush must be deemed to be safe for use in the mouth. In addition, it must be free from sharp or jagged edges, including the endpoints and the bristles. The handle material and bristles must be tested by the manufacturer to show it will withstand normal use. In addition, the toothbrush must also be deemed safe for children without the supervision of adults.
Next to the ADA Seal of Approval, you need to choose a toothbrush that correctly fits your mouth. If you have a smaller than average mouth, you do not want to use a toothbrush that is too large as it will be ineffective.
Is a Powered Toothbrush Better?
Many people often believe that a powered toothbrush is better. However, research shows that both a manual and powered toothbrush are equally as effective as long as they are used properly. In some cases, a powered toothbrush may be better for young children because they are often easier to use. For adults, it really comes down to your preference.
When Should I Brush My Teeth?
The American Dental Association recommends you brush your teeth twice a day using a fluoride toothpaste. It is recommended you brush your teeth in the morning for at least two minutes. You should brush your teeth again before going to bed for another two minutes.
In addition to brushing, you must also floss your teeth. While there is no direct evidence that supports whether it is better to floss before or after you brush your teeth, most people tend to prefer to floss after brushing.
Is a Toothbrush All I Need?
Your home oral hygiene habits are vital to maintaining the health of your smile. However, it is not the only aspect. In addition to your home oral hygiene, you need to visit your dentist in Juno Beach twice a year for regular checkups and cleanings.
At Juno Beach Smiles, we offer the preventive care you need to protect your smile. Contact our office today to schedule an appointment for preventive care.