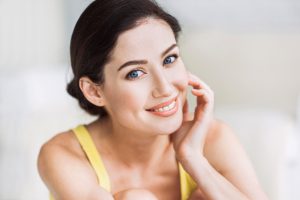 To say the house is a "fixer-upper" would be an understatement. What's left of the roof needs shingles, you're pretty sure the plumbing is from Biblical times, and you have no clue where the front door went. You're confident, however, that you can bring the house back from the brink; it just takes some planning. If your smile is also in dire need of some care, a full-mouth reconstruction from your Juno Beach cosmetic dentist could be the solution for you.
What Is A Full-Mouth Reconstruction?
Teeth can face many problems. They can become chipped, or broken. They can become discolored, or have obvious gaps. Without proper care they can even be lost. Sometimes all of these things can happen to one smile. In this case, a full-mouth reconstruction can help bring a smile back to life. This involves the use of multiple procedures in order to address all of your teeth's problems. All you need are the tools to fix them, and a plan. Your cosmetic dentist in Juno Beach has a number of ways they can help restore your smile.
Crowns, Inlay, Onlays, and Fillings
A tooth that has been broken or damaged needs to have its structure reinforced so it can keep working. Teeth that have minor problems due to decay or trauma can be rebuilt using tooth-colored fillings. These use a composite resin to help support your tooth, taking special care to use a material that blends in with the remaining natural enamel. Teeth with more severe damage may require a crown. This restoration simply slips over the top of your remaining tooth in order to give it back its form and function. Our crowns are made of a high-quality porcelain material that is both aesthetically pleasing and functionally strong. Inlays and onlays can be thought of as partial crowns. These are strategically placed pieces of porcelain that go either inside or on a tooth in order to augment its structure.
Bridges
Patients who are missing a series teeth can have them replaced using a bridge. This makes use of adjacent teeth to help support a fake, or pontic, tooth that sits above the gum line. The supporting teeth can be modified with a crown in order to provide a secure hold. If there aren't enough teeth to support a bridge, a dental implant can help create one.
Dental Implants
A dental implant is the only procedure that can completely replace a missing tooth. It does this by restoring the root of a tooth as well as the crown. These roots are made of titanium and are strategically placed into your jawbone. Implants are also very versatile, as they can be used to replace a single tooth, support a bridge, or anchor a set of dentures.
Teeth Whitening/Porcelain Veneers
The coup de grace of revitalizing your smile is making sure it is spectacular to look at. Sapphire Teeth Whitening can help take years off of your smile and leave your teeth up to 10 shades whiter in less than an hour. Porcelain veneers are thin ceramic shells that cover your teeth and can address problems such as size, color, and spacing all at once. They are one of the most dramatic ways to improve your smile.
How Do I Get Started?
No matter what condition your smile is in, Dr. Keuning and Dr. Riley, along with the team at Juno Beach Smiles, can help bring it back. Once you come in to visit them, you both can come up with a plan that will have you smiling confidently for years. It's never too late for your smile, so call us today.