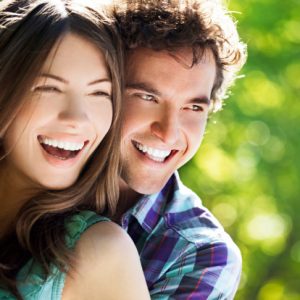 Are you encouraged by a good oral health report from your Jupiter dentist, but discouraged by stains, a gap between 2 teeth and some chips? Dr. Greg K. Riley and Dr. Duane E. Keuning reveal the magic of cosmetic dentistry with a wide range of services available at Juno Beach Smiles. One of the most popular is Jupiter porcelain veneers, natural-looking ceramic covers which make your smile zone even, bright and beautiful.
The details on porcelain veneers
Porcelain veneers, or dental laminates,  are tooth-shaped shells of fine translucent ceramic. Individually and artistically crafted, your Jupiter dentist  permanently bonds dental laminates to the front side of teeth with imperfections such as:
Gaps
Mild overlapping
Hairline cracks
Chips
Pits
Bumpy enamel
Heavy discoloration from prescription medications, tobacco use or oral injury
Congenital malformation
Frequently combined with other cosmetic dental treatments, such as porcelain crowns or composite resin bonding, dental laminates dramatically improve the smile zone in the front of the mouth. Patients can grin, laugh and speak in public with confidence knowing their teeth are attractive and very natural looking.
Receiving porcelain veneers
The process starts with a consultation with Dr. Riley or Dr. Keuning, both members of the American Academy of Cosmetic Dentistry and the Florida Academy of Cosmetic Dentistry. These Jupiter dentists are well-practiced in the art and science of smile makeovers.
After oral examination, x-rays and 3-D imaging, the dentist discusses how the patient would like to see his or her smile improved. The doctor may even preview the finished smile for the patient. He also takes impressions and writes instructions for the ceramist at the dental lab. This dental technician is a master at sculpting just the right veneer for each tooth to be treated.
The doctor also removes a small amount of enamel from the front side of each tooth. This enamel preparation makes veneers an irreversible improvement. It ensures that each laminate fits well within the patient's mouth. The process is comfortable and normally requires no local anesthesia.
At the next dental visit, Dr. Riley or Dr. Keuning places the veneers using a tooth-colored bonding cement and adjusting each one for fit and bite. He can change the color of the adhesive for a perfect color match. Porcelain veneers also strengthen tooth enamel for a beautiful smile that lasts.
Caring for veneers
If you can brush your teeth twice a day and floss, too, you can take care of your porcelain veneers. Oral hygiene is that easy. Of course, it's wise not to chew ice cube or peanut brittle, but these things aren't good for any of your teeth. Additionally, the team at Juno Beach Smiles want to see you every 6 months for routine examinations and cleanings to keep your oral health at its best.
Interested in a new smile?
Investigate the possibility of Jupiter porcelain veneers. Contact Juno Beach Smiles to set-up a cosmetic dentistry consultation, and start showing off a new smile! Be sure to ask about our special offer on a smile makeover or porcelain veneers.