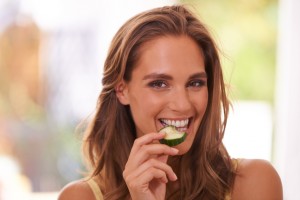 Tooth decay, fractures or chipping are all reasons that may cause you to need a dental restoration, but do you need a filling, or a crown? What's the difference and what type of procedure is required for each restoration? Your Jupiter dentist will be able to recommend the right restoration for you, but for now we'll explain the difference between a crown and a filling.
What is a Dental Filling?
When your tooth suffers from tooth decay and cavities, your dentist will recommend a dental filling. Your dentist will remove the decay and clean out your tooth leaving behind a hole in your tooth that must be filled. In the past, these cavities were filled with a metal material called amalgam. This material was silver colored and not very aesthetically appealing, it would also break down over time causing leakage, which would allow bacteria back into your tooth.
Composite resin is now the material of choice for modern dentists. Composite is a tooth colored, pliable material that is bonded directly to your tooth, actually giving it improved function. It's a very durable material and it will protect your tooth for many years. Because it's pliable, it's ideal for filling cavities and repairing small chips and fractures. The best news of all is that it can be custom blended to match your natural teeth so no one will notice your dental work.
What is a Porcelain Crown?
A dental crown is used to restore a tooth that has had more decay or damage than a filling can repair. A crown is essentially a new tooth that is made of high quality porcelain and custom designed to fit right over your natural tooth structure like a "cap." Crowns are very durable, and they're a great option for restoring beauty and function to your smile, while protecting the integrity of your natural tooth structure and your root.
Crowns are made from porcelain that is again, custom blended to match your existing teeth and naturally complete your smile. You will appreciate the form and function that a crown can offer.
At Juno Beach Smiles, our number one goal is always prevention. We'd love to help you prevent tooth decay and damage from happening to your teeth in the first place. If you should need a restoration, however, you are in very capable hands when you work with Dr. Greg Riley or Dr. Duane Keuning. These doctors have been providing dental crowns in Jupiter to their patients for a number of years, and they use only the finest quality dental materials so you'll receive a restoration you can be proud of.
If you have a tooth in need of repair, it's important to act quickly to avoid further damage. Contact our office today to learn more about how we can help you.