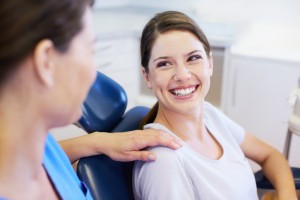 Folks avoid the dental office for many reasons. For some it's time or cost constraints, while for others it's fear or anxiety. Some people may just feel embarrassed that it's been so long. Whatever the case may be, your dentist in Juno Beach wants you to know that you're always welcome at any time and without judgment! Your comfort is our top priority and we strive to make every visit a pleasant experience, no matter how long it's been. Here's what to expect when you come to Juno Beach Smiles.
Preventative Care
Dr. Duane Keuning and Dr. Greg Riley have been helping patients in the North Palm Beach community maintain their smiles since 1995. Prevention is a top priority at Juno Beach Smiles. Our hygiene team provides thorough, yet comfortable professional cleanings, while also taking the time to educate you about your oral health and offer tips for improved home care.
These appointments are important to ensure that plaque build up is removed in order to protect your teeth from tooth decay and damage. This is a good time for the doctors to review your x-rays with you and recommend any necessary treatment. Being proactive about your oral health will ensure that any issues are diagnosed early on so you can have the least invasive treatment.
We also screen for oral cancer and periodontal disease at every bi-annual check up. Catching these issues early on will ensure that you have the best chance for successful treatment. If you should encounter periodontal, or gum disease, our hygiene team is equipped to help you effectively manage it, and even reverse it in some cases.
Cosmetic Dentistry
Perhaps there's something you'd like to change about your smile. At Juno Beach Smiles, our doctors have had countless hours of advanced training in the field of cosmetic dentistry preparing them to enhance your smile with a number of different services. Whether you need to straighten crooked teeth, or replace a missing tooth, our highly skilled doctors have the right treatment plan for you.
At Juno Beach Smiles we like to pamper our patients and treat them like they were family, because to us, you are family! We understand that your time is valuable, and we strive to make every visit efficient and comfortable. Whether you'd like to schedule a cleaning appointment or a smile makeover, whether it's been a year or twenty since your last visit, the entire team at Juno Beach Smiles looks forward to welcoming you into our dental family!