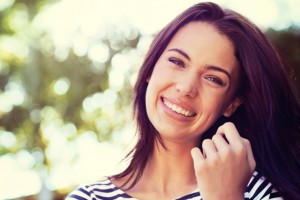 Dental implants have become the number one replacement for a missing tooth because of their durability, aesthetics and predictability. By replacing both your tooth and your root, implants protect the integrity of your teeth as well as your jawbone, not to mention restoring your beautiful smile. Implants are designed to perfectly match your existing teeth so no one will ever know that you were missing a tooth. Read on to learn more about how to care for your dental implant in Juno Beach.
What is a Dental Implant?
An implant is the complete replacement for your missing tooth because of the fact that it also replaces your root. Your new root is made of titanium, which is biocompatible and will successfully integrate with your bone. The root is surgically placed into your bone and then allowed to heal and integrate over time. After the appropriate healing period, your new root is ready to support your new tooth, or crown.
A high quality, porcelain crown is attached to your implant root through an abutment. Your crown is custom designed to naturally complement your smile. Because dental implants are very durable and built to last, with the right care your implant can potentially last a lifetime.
How to Care for Your Dental Implant?
In order for your implant to be successful you'll need to have regular dental cleanings and check ups. Your dentist will monitor your implant through examinations and x-rays to be sure that it's healthy. You will also need to implement or continue an excellent home care program. Brushing and flossing are very important, and you may want to consider products like a water flosser to help you keep your dental implant clean and bacteria free.
Am I a Candidate for Dental Implants?
Dental implants do require a couple key components to be successful and that is the patient must be in good general health and have good oral health. Implants also require enough healthy bone structure to support them. Your dentist can evaluate your mouth with a thorough examination and your bone through x-rays to determine if you are a candidate for dental implants. If implants are not in your future, your dentist can review some of the other great options available to replace missing teeth so you can decide what best meets your needs.
At Juno Beach Smiles, Dr. Greg Riley and Dr. Duane Keuning have many years of experience in helping patients restore form and function to their smiles. These doctors have advanced training in dental implants and are able to place the implants for you in the comfort of our dental office with a team that you know and trust. Don't let missing teeth keep you from living your life any longer, if you're looking for dental implants in Jupiter, contact Juno Beach Smiles to schedule your dental implant consultation today!