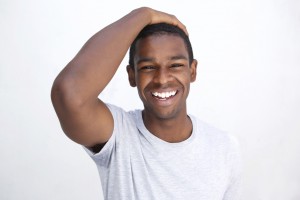 Palm Beach Gardens dentists, Drs. Greg K. Riley and Duane E. Keuning, offer professional teeth whitening for dramatically brighter smiles. Whether in-office at Juno Beach Smiles or in the privacy of the patient's home, teeth whitening safely removes stains and lasts indefinitely with some simple care.

Why whiten your teeth?
The answer may be as obvious as looking in the mirror. Over time, even the healthiest of teeth pick up stains from dietary choices, smoking, certain prescription drugs and the aging process.
So, the professional team at Juno Beach Smiles offers Sapphire Light teeth whitening–as a quick, in-house treatment, or in a more gradual, at-home version. Either way, enamel brightens by up to 11 shades in color safely, with little to no gum or tooth sensitivity.
The Palm Beach Gardens teeth whitening procedure
After one of the dentists determines the patient is a good candidate for whitening (no gum disease, decay or extensive restorations), he or she chooses which version of Sapphire whitening to use. The in-office kind takes about an hour and uses a highly concentrated hydrogen peroxide gel activated by a special light. Hydrogen peroxide lifts staining organic material right out of tooth enamel.
The at-home version employs gentler carbamide peroxide gel applied to the teeth with custom-fitted, acrylic trays. The patient wears the trays for a prescribed amount of time daily and more gradually achieves the same white smile as the in-office version. At-home teeth whitening in the Palm Beach Gardens area takes 1 to 2 weeks.
Making your renewed smile last
The appearance of a professionally whitened smile lasts indefinitely with good aftercare. That care begins with twice daily brushing with a fluoride toothpaste and once a day flossing in between teeth to remove food particles and plaque that lead to decay and gum disease and that hold staining materials deep in the mineral matrix of tooth enamel.
Also, the Juno Beach Smiles team recommends:
limiting foods and beverages that cause discolorations (black tea, coffee, red wine, curry, blueberries, cherries, sports drinks)
limiting smoking and tobacco use (or quitting it altogether if possible)
drinking colas, iced tea and other dark beverages with a straw so the liquid bypasses front teeth and lands more toward the back of the mouth
getting semi-annual check-ups and cleanings at Juno Beach Smiles
using an at-home professional touch-up kit to whiten areas prone to discoloration
Learn more about Palm Beach Gardens teeth whitening
Contact the friendly staff at Juno Beach Smiles. Set-up a cosmetic dentistry consultation with Dr. Riley or Dr. Keuning. They will help you determine what cosmetic treatments, used singly or in combination, would achieve your brightest, most long-lasting pearly whites.