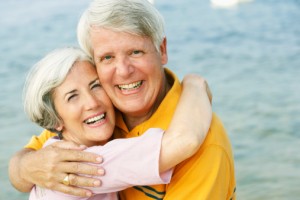 Restoring a damaged tooth is about more than your comfort or self-confidence — it's crucial for maintaining your overall oral health. If you've got a broken, severely decayed or chipped tooth, a dental crown could be your best solution. At Juno Beach Smiles, we prefer porcelain crowns for a natural, beautiful look. Keep reading to find out more about porcelain crowns in Palm Beach.

Porcelain Crowns Restore Damaged Teeth for a Natural Looking Smile
Dental crowns are a good option for a number of dental problems. Let's look more closely at what exactly they are, how they work and what you can expect from the your porcelain crowns procedure in 33408.
What Are Dental Crowns?
Dental crowns didn't get their name for nothing — they allow us to truly treat your teeth like royalty. Thin caps that closely resemble the look and function of your natural tooth, they're placed directly over the broken, decayed or chipped tooth, thus crowning the tooth. With dental crowns, your Juno Beach doctors are able to restore the function and beauty of your smile.
While dental crowns can be made of a variety of materials, like gold, porcelain, and porcelain-fused-to-metal, Juno Beach Smiles prefers to use porcelain dental crowns. Porcelain is tooth-colored and reflects light just like a normal tooth, which means a porcelain crown offers the most natural-looking restoration possible.
What You Can Expect From the Procedure
The process for fitting your tooth with a porcelain dental crown normally involves two visits to the dentist. The first visit is your time to talk with Dr. Riley or Dr. Keuning about the procedure, discussing what you wish to accomplish as well as the treatment plan for your unique mouth. Your doctor will carefully examine your teeth, taking x-rays and impressions in order to create a crown that fits your tooth perfectly. He will also prepare your tooth for the crown by cleaning and reshaping the tooth — you'll leave this appointment with a temporary crown.
In your second appointment, you'll be fitted with your permanent porcelain crown. By roughening the natural tooth, your doctor will increase the bond between the crown and the tooth to make sure it's as strong as possible. Once it's placed, he'll check for any necessary last-minute adjustments before finally cementing the crown onto the tooth. The results at Juno Beach Smiles are consistent: a strong, long-lasting dental crown that blends perfectly with the rest of the mouth.
Find Out More By Requesting Your Appointment Today
If you've got a broken, chipped or severely decayed tooth and believe that a porcelain crown is your restoration answer, please don't hesitate to call us and request your appointment for consultation today. We've already restored the smiles of so many of our neighbors with porcelain dental crowns in Palm Beach and Juno Beach — let us beautify yours this fall.