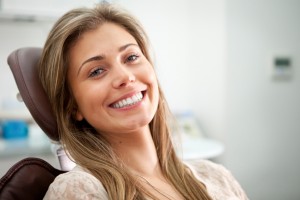 Improve your smile, and enjoy better oral health with a smile makeover from Juno Beach Smiles. Doctors Greg K. Riley and Duane E. Keuning combine talent and skill to change self-image with state of the art cosmetic, restorative and implant dentistry in the Palm Beach Gardens area.
Many people feel and act years younger than their actual age. Yet, yellowed, missing or failing teeth detract from facial appearance, oral health and function and self-confidence, too.
Smile makeovers improve health and self-image
That's why Greg K. Riley DMD and Duane E. Keuning DMD make complete smile makeovers a priority in their Palm Beach Gardens area practice. From simple exams and cleanings to teeth whitening and porcelain veneers to complex procedures such as dental implants, the team at Juno Beach Smiles creates healthy, rejuvenated smiles that help you look as young as you feel.
Start with a smile consultation
Doctors Riley and Keuning being smile consultations with a thorough oral exam to look for decay, gum disease, tooth alignment, jaw joint issues and oral cancer. They also discuss the patient's aesthetic goals–that is, how he or she wants their teeth and gums to look and function. From there, a treatment plan is formulated.
Restorative work comes first
For a smile to look good, it has to be healthy. At Juno Beach Smiles, the dentists use state of the art diagnostic and treatment tools and materials to ensure excellent oral health. These services include:
tooth-colored fillings for a color-matched, mercury-free restoration
porcelain crowns, inlays and onlays to repair larger defects in tooth structure
dental implants, bridgework and dentures to replace teeth lost to decay, injury and gum disease
Doctors Riley and Keuning are pleased to deliver complete implant dentistry for the most stable and natural-looking tooth replacement option available today. Made of a titanium screw surgically placed into the jaw, along with a metal abutment and crown, a dental implant feels, functions and looks like the real thing, and an implant encourages jaw bone size and density, too for better aesthetics.
Cosmetic work completes a Palm Beach Gardens makeover
At Juno Beach Smiles, your finished smile will look natural, bright and better than you ever thought possible. Through digital imaging, the dentists actually show you what your new smile will look like. Depending on patient goals and need, they use the best in cosmetic dental services such as:
laser gum contouring to safely and effectively reduce the look of "gummy smiles"
porcelain veneers to cover staining, chips, unevenness and gaps
Invisalign and ClearCorrect clear plastic aligners for undetectable, removable orthodontic correction that is more comfortable and easier to care for than traditional metal braces
Your smile can change for the better
A younger, healthier you begins by contacting Juno Beach Smiles for a smile makeover consultation. The professional, caring team wishes to enhance your health, smile and life with great-looking, long-lasting teeth. Call for an appointment today!