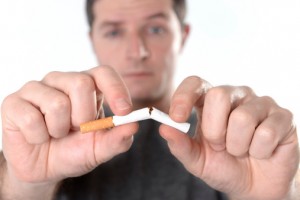 It's no secret that smoking is detrimental to your health. Research has conclusively linked tobacco use to a variety of serious health conditions, including multiple forms of cancer and respiratory illnesses. While it's also well-known that cigarettes cause bad breath and stained teeth, there are some oral health effects that aren't as widely recognized.
At Juno Beach Restorative & Aesthetic Dentistry in Juno Beach, FL, Dr. Greg K. Riley and Dr. Duane E. Keuning provide patients with a full range of general and preventive dentistry solutions, as well as valuable information about how to maintain optimal oral health. Today, we'd like to address some of the lesser known effects of smoking as they relate to oral health.
Smoking and Your Mouth: More than a Yellow Smile
Men and women who smoke are typically aware of the potential damage their habit can cause when it comes to overall health. Unfortunately, not as much attention is devoted to the mouth itself. Some of the most common oral health problems experienced by smokers include:
Substantially increased risk of developing periodontal disease
Gum recession
Deterioration of bone tissue in the jaw
Higher risk of oral cancer
Secondary infections following oral surgery, resulting in delayed recovery
Dental implants are less likely to be successful
Higher levels of harmful bacteria, plaque, and tartar
Of course, making the move to quit smoking is a very personal decision. Our primary goal is to provide our patients with the tools and information they need to achieve lasting oral health and overall wellness.
Defend Your Oral Health
Whether you are currently a smoker and are concerned about your oral health or you've quit smoking and are in need of a checkup, our team is here to help. Contact our office in Juno Beach, FL today to schedule your appointment with Drs. Riley and Keuning. We look forward to working with you on your path toward exceptional oral health and a beautiful smile. Our practice also proudly serves patients from throughout the surrounding areas of North Palm Beach, Tequesta, Palm Beach Gardens, and more.