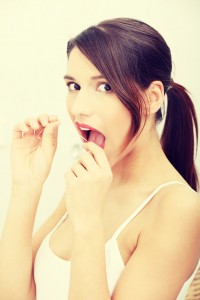 A big part of what we do here at Juno Beach Smiles involves educating our patients regarding the best preventive dentistry practices they can perform at home. Proper at-home care is a fundamental factor in keeping your teeth and gums healthy, and serves as the ideal supplement to routine checkups at our office. At our cutting-edge dental practice in Juno Beach, FL, Dr. Greg K. Riley and Dr. Duane E. Keuning offer a comprehensive menu of general, restorative, and cosmetic dentistry services, giving our patients the tools they need to smile brightly and confidently. Today, we focus on flossing.
Flossing: How Important Is It, Anyway?
We all know that brushing your teeth twice a day helps keep your breath fresh, your teeth looking great, and your precious enamel free of the plaque that can cause cavities. Millions of people, however, don't understand the importance of flossing as well, neglecting this crucial component of their daily oral hygiene regimen at home. The fact is that bacteria that hide between teeth can not only cause tooth decay that you can't see, but lead to more serious problems like gum disease as well.
Finding the right dental floss for you is largely a matter of personal preference. You want these few minutes that you spend each day to be a positive experience, so choose a floss thickness that is comfortable for you. Ideally, the floss shouldn't snap up to your gum line harshly once it pushes up between your teeth; this will only cause discomfort and possibly bleeding of the gingival tissue. Our dentists recommend flossing your teeth at least once per day, though using dental floss after daily meals isn't necessarily a bad idea! The goal is to eradicate as many leftover food particles and bacteria as possible.
Schedule Your Checkup Today
If it has been more than six months since you last visited our office for a dental checkup and cleaning, contact our office today to schedule your appointment! Don't worry, we won't judge you if you haven't flossed in a while; instead, we'll give your teeth and gums a thorough cleaning and gladly show you the proper way of flossing – one that's easy to fit into your daily schedule and incredibly beneficial to your oral health. Our conveniently located practice happily serves patients from throughout Juno Beach, North Palm Beach, Tequesta, Jupiter, Palm Beach Gardens, and beyond.