Dentist – Palm Beach Gardens
Gorgeous Smiles in a Convenient Dental Office Location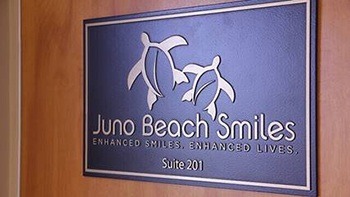 Welcome to Juno Beach Smiles – a different kind of dental office experience in Palm Beach Gardens. When it comes to delivering dentistry services that exceed your highest expectations, our team has you covered. We are committed to creating an office atmosphere that is peaceful and relaxing, and our beautiful décor will make you feel welcome from the moment you arrive. Located in Juno Beach, our dental office welcomes patients from Palm Beach Gardens and all other nearby locations. If you're interested in finding out more, call the Juno Beach Smiles team to schedule your first appointment. We look forward to seeing you soon.
What Sets Us Apart
At Juno Beach Smiles, our mission is simple, "We will do everything possible to enhance your life by enhancing your smile." To achieve this goal, we combine state-of-the-art technology, a commitment to clinical excellence, and dedication to providing our patients with exceptional dental care. We are passionate about providing dental care that is safe, comfortable, effective, efficient, and convenient. Our patient comfort comes first, and our office is actually reminiscent of a spa rather than a medical facility. For your convenience, we're happy to offer dental appointments that fit your schedule, during all of the following office hours: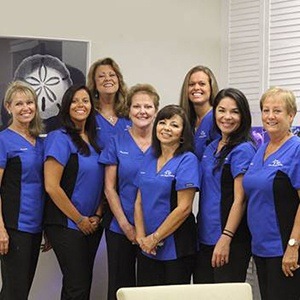 Monday 7:30am – 4:30pm
Tuesday 8:00am – 5:00pm
Wednesday 9:00am – 6:00pm
Thursday 7:30am – 4:30pm
Friday 7:00am – 2:30pm
Comprehensive Dental Care
Another way we make dental care more convenient is by offering comprehensive dentistry services all under one roof. Our team of skilled professionals are happy to provide a range of preventive, restorative, and cosmetic dentistry services to meet every need. We always use the highest quality materials, and our dentists provide an exceptional level of care that sets us apart from other local dental offices. Some of the more advanced services we offer include: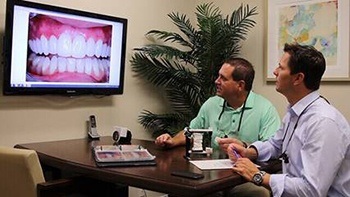 ClearCorrect and Invisalign individual braces
Complete smile makeovers using cosmetic dentistry services personalized to your needs
Botox cosmetic
Laser gum therapies
Dental implant supported tooth replacement
Advanced gum disease treatments
Pain relieving TMJ therapies
Same day emergency dentistry appointments
Sleep apnea treatments using oral appliances
Relaxing sedation dentistry
Hear from Our Patients
Some our favorite reviews from individuals in Palm Beach Gardens:
"Best dentists in Palm Beach County. But if I lived in Martin or Broward, I would drive to Juno Beach to see my dentist. Both the docs are professional, and I am lucky to have found them." - O'Neal
"If you are looking for Quality, Performance and Care above all else in a dentist, Doctor Keuning, is an Expert, Professional, Specialist, and Artist, in his generation. I would give the Juno Beach Smiles Award to Doctor Keuning. This Dr. gets it. He takes his time and is never, never in a hurry. He has to be happier with his work than you are, or he will not let you out of his chair! He just loves what he does and would not rather be doing anything else. He has never hurt me or disappointed me with his work. I believe Dr. Keuning is going to be the leader in dentistry in Palm Beach County for many years to come." - Gary P.
Palm Beach Gardens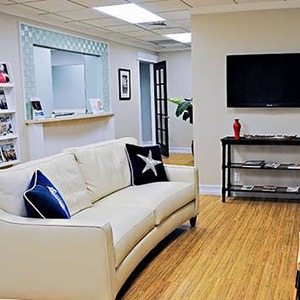 We love working with Palm Beach Gardens residents, including those from Mirasol Country Club, Paloma, Catalina Lakes, Frenchman's Creek, Sabal Ridge, Highland Pines, Eastpointe, and Horseshoe Acres. We are dedicated to supporting our communities and making Palm Beach Gardens and Juno Beach great places to live and work. We are happy to support all local employers, including Scripps Florida Research Institute, Max Planck, Biomet-3i, Belcan Corporation, CH2M Hill, Inc., Professional Golfers Association of America (PGA), The Forbes Company, LRP Publications, Inc., Chromalloy Center of Excellence, Bascom Palmer Eye Institute, and the TBC Corporation Headquarters.
Conveniently Located
Our office is easy to access from Palm Beach Gardens. Simply head directly east on the US 1. Our office is just off of US Highway 1 south of Donald Ross Road. Juno Beach Smiles is located near the Loxahatchee River Battlefield Park, PGA National Golf Club, Grassy Waters Preserve, Peanut Island, and the Loggerhead Marinelife Center. If you need help finding us, please don't hesitate to call. One of our team members would be happy to assist you.